About Mountain Bark – The Prairies are our home. We have been a wholesale distributor in the Prairies for 14 years of primarily "Rustic" Western Red Cedar landscaping products. In that time, we have had opportunity to create relationships with other fantastic manufacturers of high quality landscaping and garden products. We believe in these companies products as much in our own. We are excited to launch our new Mtn Bark Express online store and will go the extra mile to provide you with the products that will help you develop a cool landscape, awesome garden or maybe just chill in your back yard around your firepit with some Western Red Cedar firewood.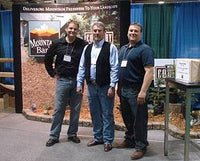 Mountain Bark Dealers
To locate a dealer near you, please give us a call or send us an email from our contact page. We'll be glad to help you find what you need
Contact Us
MTN BARK EXPRESS COVID -19 protocols
All invoices will be emailed
We will deliver products to your doorstep or your driveway with NO signature required
ALL pick up orders will be scheduled at 10 minute intervals at our Inventory Yard at 100 Stockton ave – across the street from CARSTARS COLLISON. While picking up your order please maintain safe distancing and again all invoices will be emailed.